Myself and Patrick have signed up for our first adventure race in February.  I am not sure it has properly sunk in yet. But hey the videos on YouTube made it look like so much fun! Many people have shown interest and asked how they can start adventure racing. Well below we have found an interesting article and the perspective from someone that was in the same boat as us (and you). If you are new to adventure racing then this should hopefully answer some of your questions.
Here are some of the other things we get asked when we tell people about our "adventure".
"Are you excited?" Yes!
"Are you nervous?" A little.
"Are you fit enough?" Umm, next question……
"Are you mad?" Most definitely!!
Here is one of those YouTube videos that made us think it would be great fun!!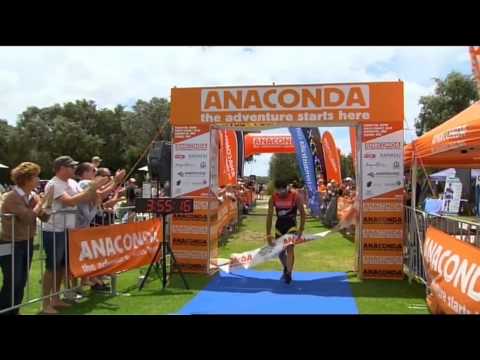 How to Start Adventure Racing
New to Adventure Racing?

So was Nic Davies, ('late 20s', Melbourne) until she tried an Anaconda Adventure Race. Before trying adventure racing, Nic hadn't done any sort of racing at all 'if you don't count Little Aths', so it was a steep learning curve. Nic tells us a little bit about getting involved in adventure racing, from learning new skills to training for four different disciplines, all while keeping sane (and employed):

"For anyone, it's a pretty daunting task attempting your first adventure race. For me, it was huge. What's the swim like? How hard is kayaking in open water? Will I be able to ride my mountain bike up a steep hill after swimming, running and kayaking? Can I ride my bike up a steep incline full stop? What do I eat, (do you stop to pee?) Wow. Oh – and what gear do I need before I can get started?

Even thinking back, I realise that I'd bitten off quite a lot. But, I did it, I completed the Anaconda Adventure Race in Lorne 2005, and then had another go at the Gold Coast race in 2006. Since then I've also completed a six-hour rogaine, and a 24-hour adventure race. All these great new races and opportunities have opened up since I made the effort to learn new skills and take a chance.

I still feel like a bit of an adventure racing newbie, but I guess that helps me remember what it's like to start out. So here is some info I wish I had 18 months ago, that should help those ready to try their first adventure race this year. It all comes down to two things – the toys and the training.

First things first, enter the race. I entered my first Anaconda Adventure Race as an individual, but in hindsight should have considered being part of a team. I could have handled two legs, run and kayak, or at a pinch, run, kayak, swim, but all four was tough. Don't be afraid to post your profile under the Team Mate Finder section of the race website, detailing your goals and the legs you'd like to do. This take the pressure off a little and you can really enjoy the day.

If you decide to go solo, where to next? You'll need some gear. Talk to a seasoned adventure racer, haunt the forums or chat to the guys at Rapid Ascent. Get involved in a club such as Melbourne Adventure, they might lend you some gear. In adventure racing, there are the big-ticket items such as a wetsuit, mountain bike, PFD, paddle and boat, and a myriad of little items such as goggles, helmet, shoes and bike spares. Borrow as much as you can and buy second hand where possible, checking out Rapid Ascent's Trading Post  page in the forum. When you're starting out, only buy new gear as a last resort. It can be an expensive one-off race if you never do another. I bought most of my gear, but fortunately they've seen plenty of use.

The two most important items I bought were my bike and my boat. I got one right. It's important that both pieces of equipment are appropriate for your size and your skills. Err on the side of caution. You'll reach the finish line quicker in a stable, comfortable boat that doesn't dump you than a sleek, unstable boat that would prefer for you to swim. I bought a FINN, and I reckon I got the kayak right. There are plenty of kayak training tips under the 'Kayaking and Training' section of the race website, and don't forget to check out the comprehensive kayak testing report - it's a great starting point for understanding the different boats on the market and helping you choose the right one.

While I got the kayak right, I got the mountain bike very wrong. I ended up purchasing a bike more appropriate for my 6ft 4 brother, and more suited to downhill than cross country riding. The damn thing still bucks me off on most inclines. Try out some different bikes and making sure the bike you get is set up correctly. Go to course familiarisation days and try other people's bikes. Look at what other people of similar builds and style are using and quiz them about their equipment and check out bike tips in the kayaking and training section of the race website. You KNOW when you've got the right bike set up correctly as it will feel like it is equipped with a motor. (mmm maybe I am going a little far here!)

Bugger the gear, I want to start training!

Assuming you're as new to this as I was, learning new skills will be as important as getting fit. Those without a triathlon background are probably new to open water swimming. What worked for me was finding a decent coach to improve my technique. He taught me that you go faster by swimming smarter rather than harder. Train in the pool until you can swim about 2km, then try the open water. Start in a calm bay, put on the wetsuit, and concentrate on your technique. If all that open water is a little daunting, just stay close to the shoreline. Eventually you'll need to work your way up to surf swimming, but just take it one step at a time. On race day, remember your training and technique and don't get caught up in the biffo at the start. If you need to start at the back to feel comfortable, then start at the back.

Onto the run. Yee haa, my favourite leg! Except for the Gu spew burps. This leads to my next tip – eat in training what you plan to eat during the race. This seems bleedingly obvious, but I still didn't try it, and I felt awful trying to gag the stuff down. The run leg of an adventure race can be damn hard – running up and down steep hills on rough trails or paths is tough, and course designers love throwing in hills, rocks and sand. So find some areas where the environment is pretty AND rough and train there – it's likely to be a far nicer place to play than the city streets anyway. Once again, course familiarisation days are an excellent opportunity to test your skills on the race-day course. My favourite place to run is Ferny Creek in the Dandenongs. Those cool green ferns lure me out of bed and away from the tarnished cityscape every Sunday. Post training gluttony at any one of the many cafes is always a highlight and keeps training fun.

So you've done some swimming and running, but you can't put off the paddling forever. Try several boats when you start, but once you've found the perfect boat you've got to learn to paddle it confidently. Like swimming, start small and develop your skills in calm, flat water. Practice your basic skills and techniques as well as safety procedures. There are some excellent kayak training and technique tips under the kayak and training section of the race website. Once you're confident with the bascis, take your new toy down to the nearest flat water bay and get out in the more open water. Deal with some chop and get used to how your boat handles. You'll fall in a lot, but that's just part of the fun. Once you're comfortable handling the boat in flat open water, it's time to get into the surf. Once again, course familiarisation days are a perfect chance to practice in the same waters you'll race in. Most importantly – STAY SAFE. My five metre Finn turned into an Exocet Missile the second time I took it into the (fairly tame) surf, sconning me on the noggin a beauty. I bought a helmet the next day, though you may as well re-use your bike helmet and save the money.

Finally, let's go for a ride. Like the paddling and swimming, it's all about technique. Start simple. You might need to learn to ride in cleats, which will involve learning to fall over in cleats. You'll quickly realise it doesn't hurt (except for the ego) and you'll happily get on with it. The two keys to riding are getting miles in the legs (by cycling on the road and trails regularly) and developing the skills to ride on trails. I was new to mountain biking but quickly learned that there is no substitute for getting out there and riding. I was pleased that my riding improved quickly after trying a few dirt criteriums (held under the Westgate bridge in Melbourne) and some enjoyable training on the trails of Lysterfield National Park. I'd often drag out some buddies (pack some spares) and finish up with a BBQ by the lake. Keep it fun! Again, take advantage of the course familiarisation days to learn about the course, then try to integrate that style of riding into your training rides.
I think Nic sums up how to start adventure racing, its been really helpful to us. We would be really interested to hear from you if you are new to adventure racing and if you have any other tips (we need all the help we can get). We will probably be posting our progress on here and hopefully pictures of us crossing the finish line!
Share and Enjoy